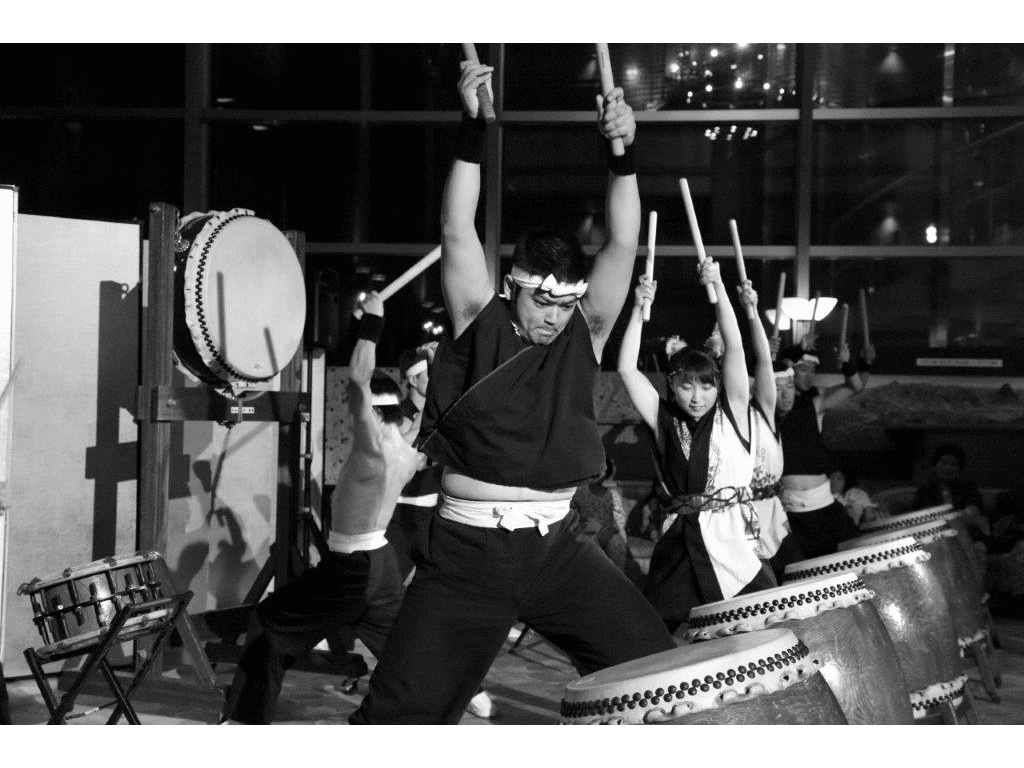 <あうん>日本では「あうんの呼吸」という言葉があり、お互いが言葉を交わさなくても相手の間や考えている事がわかる様な間柄という意味です。左右に分かれた演奏者が「あうんの呼吸」でフレーズを演奏し、また曲の前半、後半はもともと全く違う2曲なのですが、同じリズムの中で演奏します。
<A-Un>We have an expression called "a-un no kokyu" or "a-un breathing." These sounds are said to describe a relationship between two people that is so harmonious they don't even need verbal communication. Two groups of drummers on each side play in synchronicity. The first half of the piece and the second half were originally two different pieces, but we play them with the same rhythm.
---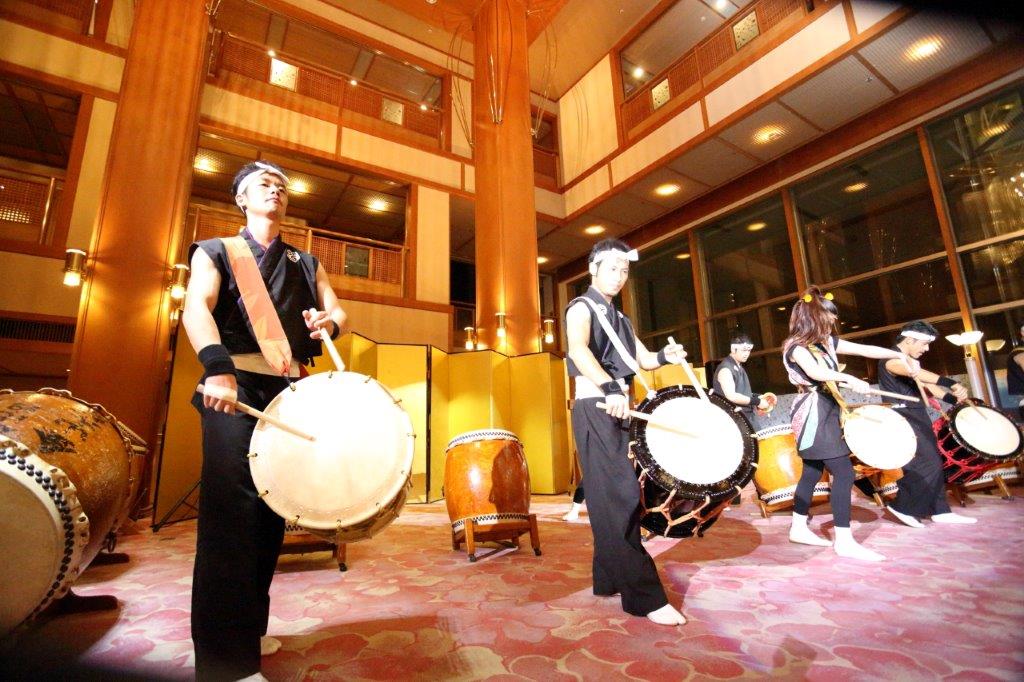 <弾(はずみ)>
手鞠の様に弾むリズムと、手鞠特有の幾何学模様のように打ち手のカラー交差する、そんなイメージの曲です。気分が高揚してくるような跳ねるリズムと、フリースタイルな演奏をお楽しみ下さい。
<Bounce>
For this piece, we carry drums hanging from our shoulders. We call it "Bounce" because it is an upbeat song meant to lift the spirits. There are parts where two drummers are improvising. Everyone plays a solo, and in the climax, all five drummers play in unison.

---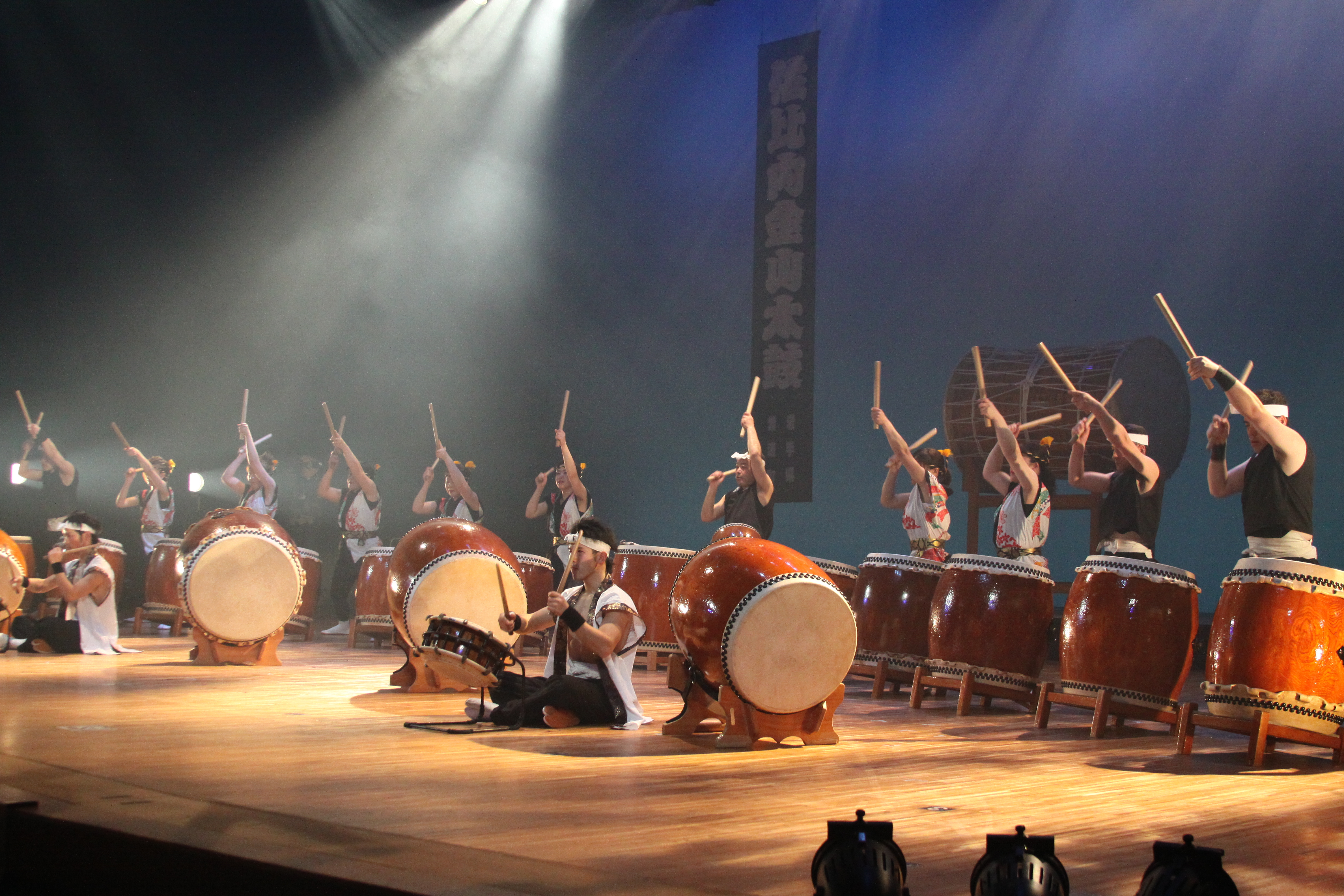 <威気(いき)>
森羅万象からくる『陰と陽』、それに伴う音の『静と動』を体現しました。全身全霊を注ぎ打ち鳴らす、金山太鼓の『威勢』と『気』を、五感全身で感じて下さい‼。

<Iki>
We coined the word "Iki," meaning "to overwhelm others." We start slowly and gradually go faster and faster until the beats and sound pressure from the drums overwhelm the audience. From the middle part of this piece some of us are going to use the drums at the front of the stage. We've been told by some who have seen this performance that "It's hard for us to watch." Enjoy the intensity of this performance.

---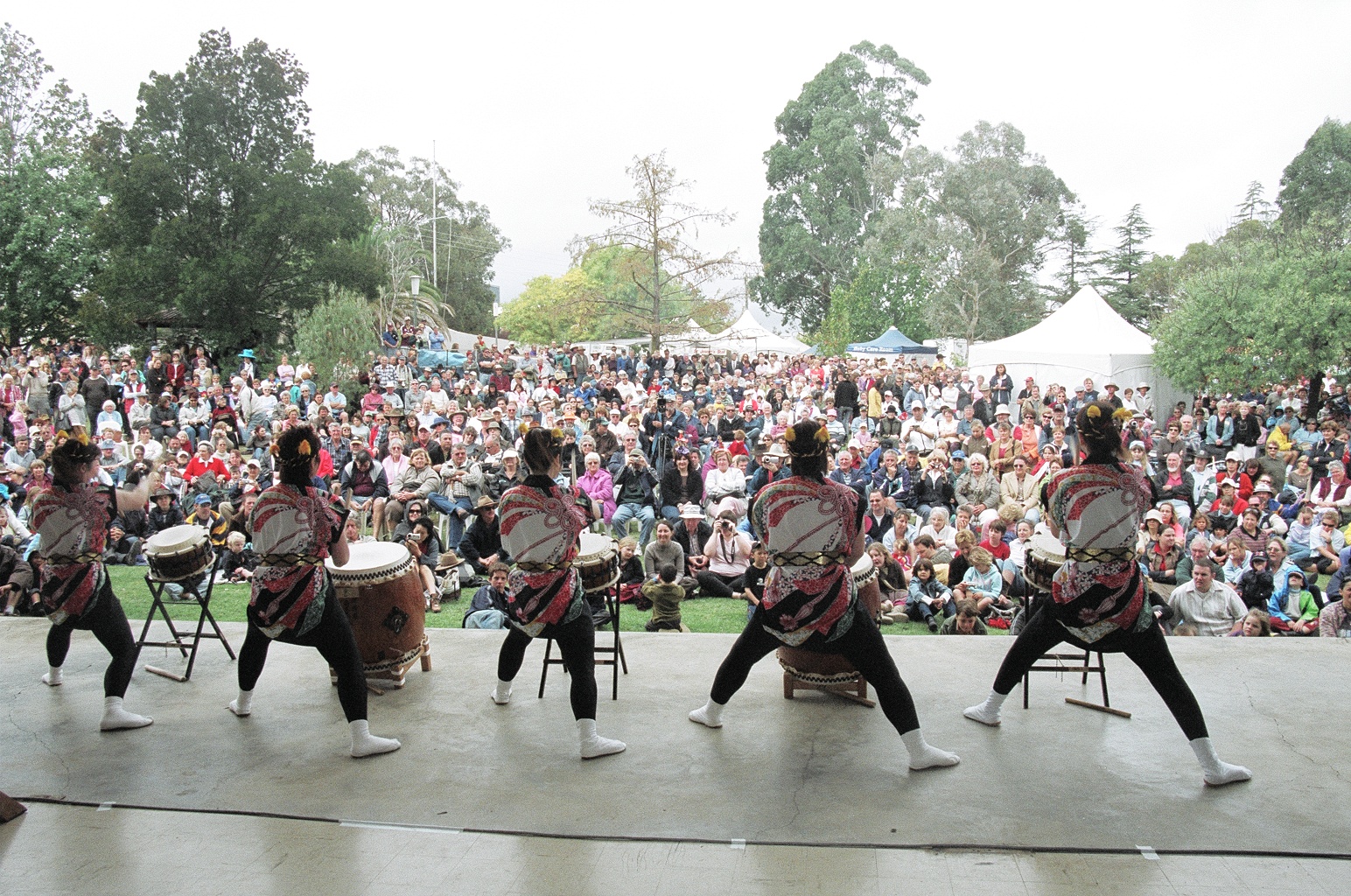 <アゲハ>
「アゲハ」は蝶々の一種で、オーストラリアでは「ユリシス」と言うそうですね。(たぶん)金山太鼓は力任せの曲が多いですが、この「アゲハ」は旋律やパフォーマンスの美しさを表現するために作った曲です。それぞれが全く別のフレーズを重ねますが、最後は同じタイミングで曲を終えます。この息の合った演奏にも注目してください。

<Swallowtail butterflies>
We've been told there are beautiful butterflies in Queensland called "Ulysses butterflies." For most of our music, we try to be energetic and vigorous, but this piece focuses on the beauty of the melody and the performance. Each drummer plays a different melody, and the sounds overlap in layers. Then we end at the same time. Please enjoy the performance.